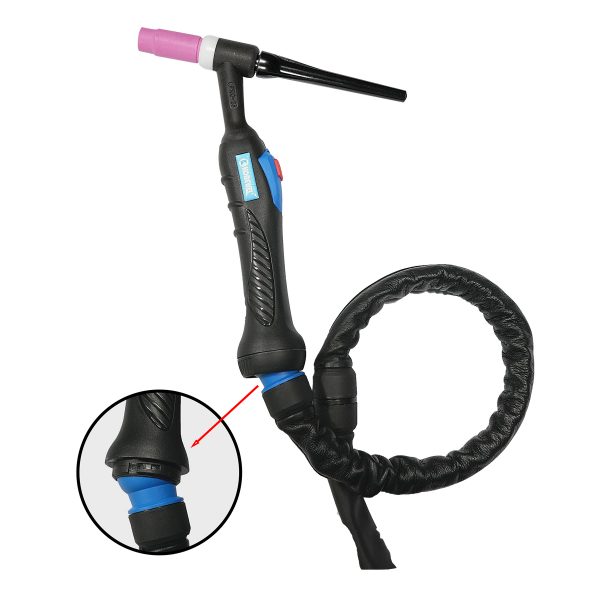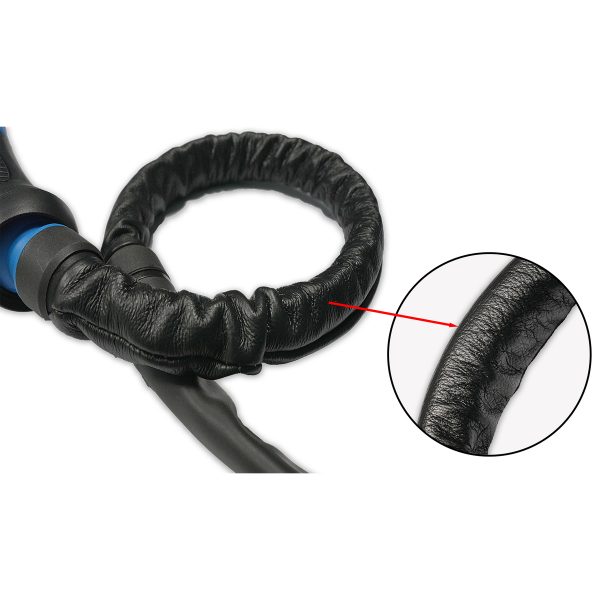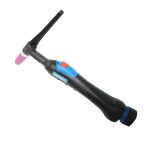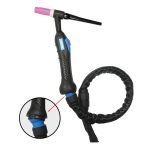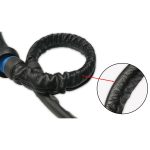 Stang Las TIG – Air Cooled Pro Tig 26

Katalog (230 KB)
Kita juga hadir di : 
Bagikan ke :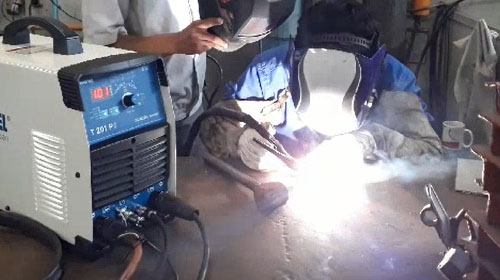 Advantageous
1. Good performance TIG Torch with high quality components.
2. Handle with excellent grip & ball joint at the end of the handle.
3. High flexibility cable, first cover 50 cm in leather, then neoprene for top flexibility.
4. Wearing parts compatible with international standard.
5. Silicone Rubber torch bodies, reduce the possibility of accidental damage during use
or the loss of high frequency signal due to torch body failure.
| | | |
| --- | --- | --- |
| Specifications | | |
| | | |
| Type of Cooling | : | Air |
| Gas Flow | : | 7 - 18 l/min |
| Duty Cycle 45 % DC | : | 200 A |
| Duty Cycle 45 % AC | : | 150 A |
| Tungsten Electrode Ø | : | 1.6 - 4.0 mm |
| | | |
| Item Code | | Item Name |
| 250.17.003 | | TIG Torch - Air Cooled - Pro Tig 26 at 4 m |
| 250.17.005 | | TIG Torch - Air Cooled - Pro Tig 26 at 8 m |
| | | |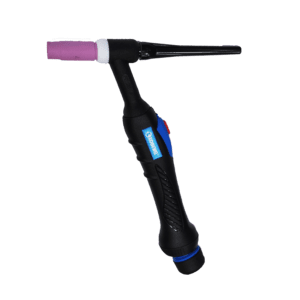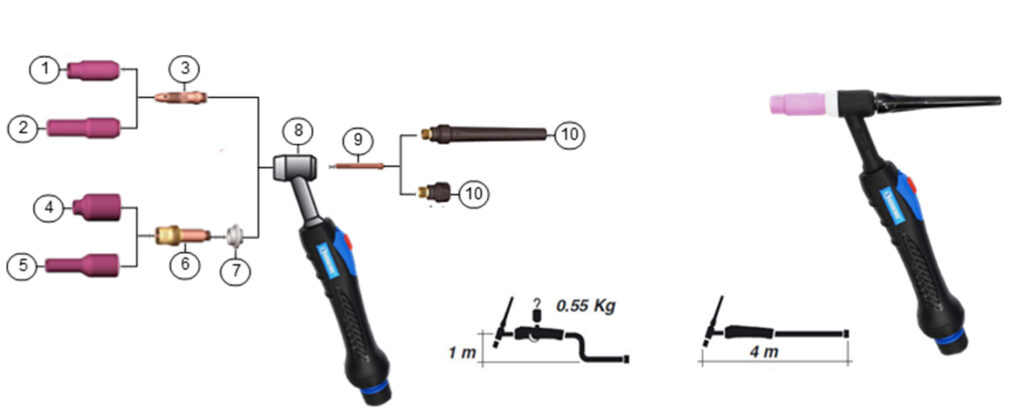 | | | | |
| --- | --- | --- | --- |
| Pos | Item Code | Item Name | MoQ |
| 1 | 250.18.001.1 | Alumina Nozzle Short - No. 5 (10N49) - Pro Tig 17 - 26 - 18 - 10 Pcs | 1 Pack |
| | 250.18.002.1 | Alumina Nozzle Short - No. 6 (10N48) - Pro Tig 17 - 26 - 18 - 10 Pcs | 1 Pack |
| | 250.18.003.1 | Alumina Nozzle Short - No. 7 (10N47) - Pro Tig 17 - 26 - 18 - 10 Pcs | 1 Pack |
| | 250.18.004.1 | Alumina Nozzle Short - No. 8 (10N46) - Pro Tig 17 - 26 - 18 - 10 Pcs | 1 Pack |
| | 250.18.005.1 | Alumina Nozzle Short - No. 10 (10N45) - Pro Tig 17 - 26 - 18 - 10 Pcs | 1 Pack |
| | 250.18.006.1 | Alumina Nozzle Short - No. 12 (10N44) - Pro Tig 17 - 26 - 18 - 10 Pcs | 1 Pack |
| 2 | 250.19.001.1 | Alumina Nozzle Long - No. 5 (10N49L) - Pro Tig 17 - 26 - 18 - 10 Pcs | 1 Pack |
| | 250.19.002.1 | Alumina Nozzle Long - No. 6 (10N48L) - Pro Tig 17 - 26 - 18 - 10 Pcs | 1 Pack |
| | 250.19.003.1 | Alumina Nozzle Long - No. 7 (10N47L) - Pro Tig 17 - 26 - 18 - 10 Pcs | 1 Pack |
| 3 | 250.22.001.1 | Collet Ø 1.6 mm (10N23) - Pro Tig 17 - 26 - 18 - 5 Pcs | 1 Pack |
| | 250.22.002.1 | Collet Ø 2.4 mm (10N24) - Pro Tig 17 - 26 - 18 - 5 Pcs | 1 Pack |
| | 250.22.003.1 | Collet Ø 3.2 mm (10N25) - Pro Tig 17 - 26 - 18 - 5 Pcs | 1 Pack |
| | 250.22.004.1 | Collet Ø 4.0 mm (10N26) - Pro Tig 17 - 26 - 18 - 5 Pcs | 1 Pack |
| 4 | 250.20.001.1 | Alumina Nozzle Short Gas Lens - No. 4 (54N18) - Pro Tig 17 - 26 - 18 - 10 Pcs | 1 Pack |
| | 250.20.002.1 | Alumina Nozzle Short Gas Lens - No. 5 (54N17) - Pro Tig 17 - 26 - 18 - 10 Pcs | 1 Pack |
| | 250.20.003.1 | Alumina Nozzle Short Gas Lens - No. 6 (54N16) - Pro Tig 17 - 26 - 18 - 10 Pcs | 1 Pack |
| | 250.20.004.1 | Alumina Nozzle Short Gas Lens - No. 7 (54N15) - Pro Tig 17 - 26 - 18 - 10 Pcs | 1 Pack |
| | 250.20.005.1 | Alumina Nozzle Short Gas Lens - No. 8 (54N14) - Pro Tig 17 - 26 - 18 - 10 Pcs | 1 Pack |
| | 250.20.006.1 | Alumina Nozzle Short Gas Lens - No.12 (54N19) - Pro Tig 17 - 26 - 18 - 10 Pcs | 1 Pack |
| 5 | 250.21.001.1 | Alumina Nozzle Long Gas Lens - No. 5 (54N17L) - Pro Tig 17 - 26 - 18 - 10 Pcs | 1 Pack |
| | 250.21.002.1 | Alumina Nozzle Long Gas Lens - No. 6 (54N16L) - Pro Tig 17 - 26 - 18 - 10 Pcs | 1 Pack |
| | 250.21.003.1 | Alumina Nozzle Long Gas Lens - No. 7 (54N15L) - Pro Tig 17 - 26 - 18 - 10 Pcs | 1 Pack |
| | | | |
| --- | --- | --- | --- |
| Pos | Item Code | Item Name | MoQ |
| 6 | 250.24.001.1 | Collet Body Gas Lens Ø 1.6 mm (45V25) - Pro Tig 17 - 26 - 18 - 5 Pcs | 1 Pack |
| | 250.24.002.1 | Collet Body Gas Lens Ø 2.4 mm (45V26) - Pro Tig 17 - 26 - 18 - 5 Pcs | 1 Pack |
| | 250.24.003.1 | Collet Body Gas Lens Ø 3.2 mm (45V27) - Pro Tig 17 - 26 - 18 - 5 Pcs | 1 Pack |
| | 250.24.004.1 | Collet Body Gas Lens Ø 4.0 mm (45V28) - Pro Tig 17 - 26 - 18 - 5 Pcs | 1 Pack |
| 7 | 250.24.005.1 | Collet Body Gas Lens Insulator (54N01) - Pro Tig 17 - 26 - 18 - 5 Pcs | 1 Pack |
| 8 | 250.33.003.1 | Torch Body - ProTIG 26 | 1 Pack |
| 9 | 250.22.001.1 | Collet Ø 1.6 mm (10N23) - Pro Tig 17 - 26 - 18 - 5 Pcs | 1 Pack |
| | 250.22.002.1 | Collet Ø 2.4 mm (10N24) - Pro Tig 17 - 26 - 18 - 5 Pcs | 1 Pack |
| | 250.22.003.1 | Collet Ø 3.2 mm (10N25) - Pro Tig 17 - 26 - 18 - 5 Pcs | 1 Pack |
| | 250.22.004.1 | Collet Ø 4.0 mm (10N26) - Pro Tig 17 - 26 - 18 - 5 Pcs | 1 Pack |
| 10 | 250.25.001.1 | Back Cap Long (57Y02) - Pro Tig 17 - 26 - 18 - 5 Pcs | 1 Pack |
| | 250.25.002.1 | Back Cap Short (57Y04) - Pro Tig 17 - 26 - 18 - 5 Pcs | 1 Pack |